Our History
FCCV began when a group of women met in July 2015. These change-makers were determined to use their skills to make a bigger impact in their community. Following a 2015 Purdue University conference in our community, Fayette County Women's Voices was officially formed. This organization hosted a women's conference that winter and identified key areas of focus for the FCCV organization based on community needs: Education, Health, Development, and Social Life.
These key areas of focus, and the work of these original leaders, have continued to guide our organization. In May 2017, our organization officially became the 501(c)(3) nonprofit "Fayette County Community Voices, Inc." you know today. Recent efforts include the development of downtown Connersville's Oasis, development of the J. Long Memorial Second Street Park, Outdoor Education at Mary Gray Bird Sanctuary, the establishment of Fayette County Food Council, summer health series programming, the installment of menstrual product dispensers in community schools, community conversations related to diversity, the organization of a more streamlined collaborative community approach, Day of Sharing, and more.
Collaboration is the key to success. We believe in our think-tank approach, and continue to work hard to see the good in our community. Together, we can be the change.
Our Strategic Direction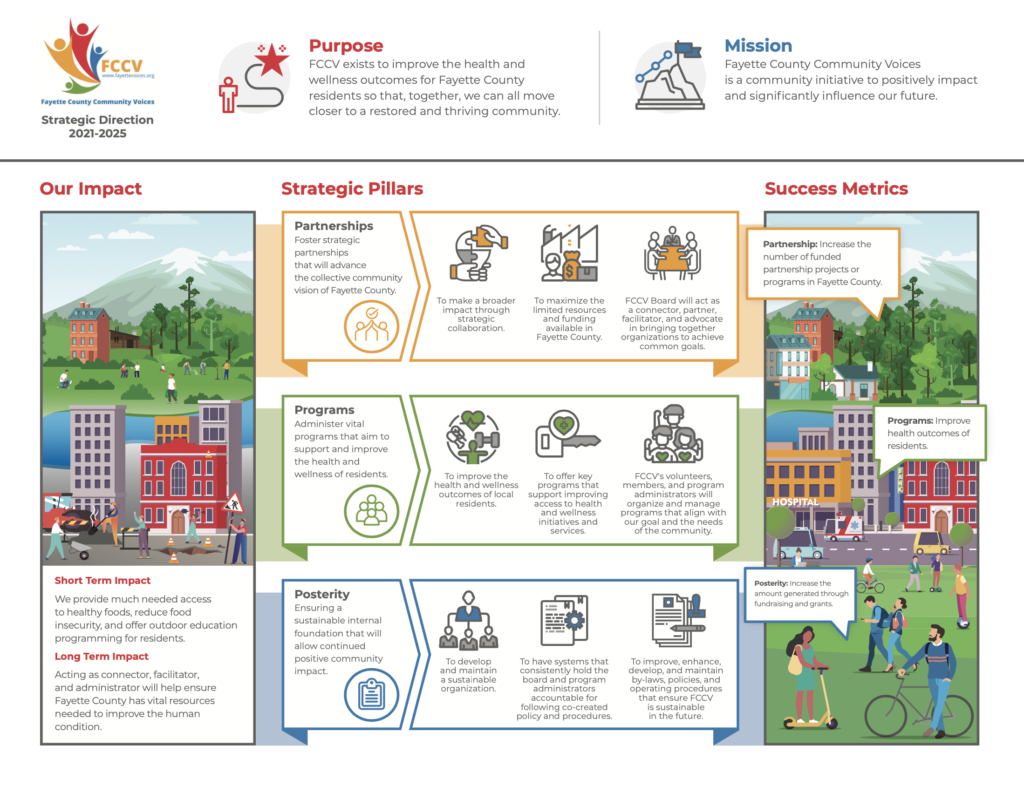 Our Board
Stephanie Ruf, Board President
Brayton Johns, Vice-President
Melissa Scott, Secretary
Clayton Judd, Treasurer
Becky Marvel
David Caldwell
Emily Allen
Evan Osborne
Marc Stringer
Mary Swope
Sarah Grubbs
Seth Winstead
Patty Robsinson, Fayette County Food Council Coordinator
Erin Futrell, Outdoor Education Coordinator